Planning a trip to Napa for a girl's weekend or a retreat with your partner?  Then a stop at the Napa Valley Gaia Hotel Spa should be high on your list of priorities.  From the moment you enter the doors, you are feel like you are leaving the world behind you as you are greeted by the stunning two-sided Buddha fountain and a beautiful, Asian-influenced waiting area, ready to take your cares away.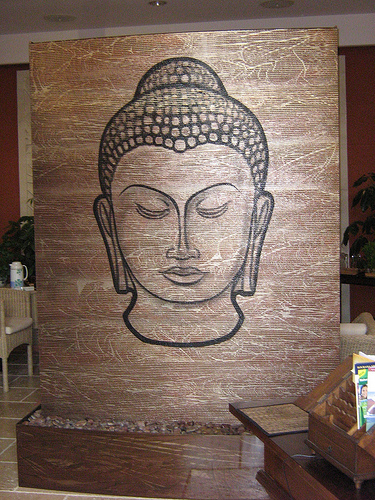 A robe and slippers are provided to each guest, as well as full-sized locker for your things.    A unique experience in the change room is the triple spray shower.  There is a rainfall shower flowing down on you directly overhead to the jets that spray you from either side, not only is it a great massage but a thorough, all-over cleaning from all sides.   The steam room was a good size to accommodate you and three girlfriends, as if you were spa-ing it "Sex and the City" style.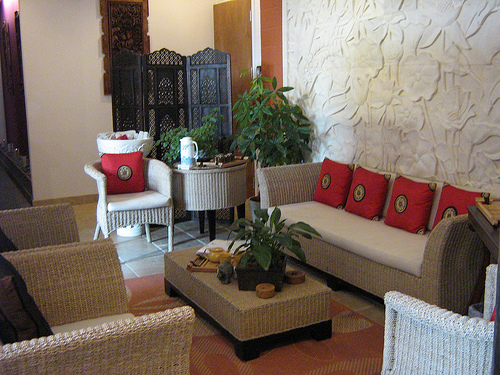 The Spa offers a variety of treatments from a simple massage to a Volcanic Mud Wrap.   Also offered are facials using organic and biodynamic ingredients.  All packaging used at the Spa is recyclable and is made from recycled materials.   I loved the "couples" massage room and thought the "Dragon and the Phoenix" dual body scrub with Cabernet seeds and a massage afterwards would be the perfect mother-daughter retreat.
I did make time for the Thai Coconut Scrub & Massage. The scrub is an organic blend of soaps made from corn and coconut oils, rice "flour" made form ground up rice hulls, coconut, lemongrass essential oil, and a few other good things.   The oil is a blend of essential oils in a base of safflower oil.    The amazing aromas from the scrub awoke my senses while the hot towel compress wiped everything away and relaxed my body completely.  By the time my massage started I was already slipping into complete relaxation.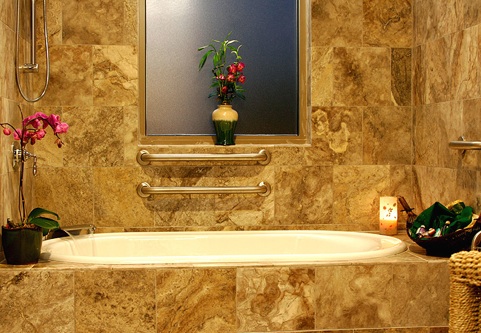 Kate Riley, manager of the Gaia Spa makes you feel very special and relaxed on arrival.  Having been a bodyworker and a yoga teacher since 1976, she is a great resource for the Spa and will help you choose the right treatment for you.
All of the Spa's services are available online so book ahead to avoid disappointment.  You'll be glad you did.