Not only was my stay at the Gaia Napa Valley Hotel relaxing after a long day of wine tasting, the culinary delights of Chef Marco Fiorini were the perfect start and end to every day.  Keeping in the "green" theme of the hotel, there is lots of natural light coming in from the skylights and the big windows overlooking the courtyard and pool.  The menu is printed on recycled paper and most of the menu items are organic, locally grown and sustainable.    The booths along the window are cozy and inviting to what is happening outside.
For breakfast, I had the Bayside Benedict with smoked salmon and one of the best oatmeals I have had in a long while, accompanied with brown sugar and a variety of nuts (ordering a side of fresh fruit complements this dish perfectly).  Some interesting breakfast choices include the Lamb Hash and Eggs or for the Vegan, a Scrambled Egg Tofu.   The portions were perfectly sized and sustained me throughout my wine journey into wine country right up until the early afternoon.
In the evening, the dining room comes alive with Ken at the bar and his amazing ice tea.  No, it's not "sweet tea" but Ken's special brew that keeps it natural tasting but with a hint of sweetness.   If you want to know the secret, you'll have to ask Ken in person.
However, the food and wine keep the guests coming back and the locals wanting more.  I absolutely loved the Sea Scallop Sliders (a take on the mini burger trend, but with scallops) and Tuna Tartare.  For dinner, I had the grilled halibut, but must-trys are the Gaia Burger (the beef comes from a local ranch and is grass fed) and the California Lamb Shank that is slow cooked in a local red Zinfandel and served on bed of mint and scallion couscous.  Talk about meat falling off the bone, it's just delicious!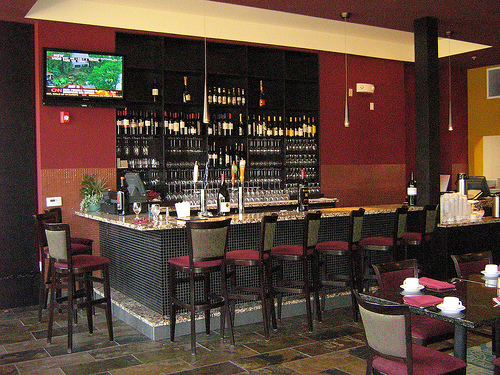 Some of the featured local wineries are Cartilidge and Brown, where their Chardonnay and Merlot are available by the glass, and the organic Long Meadow Ranch Sauvignon Blanc, which is a great palate cleanser at the start of a meal.  It has really nice acidity and fruit and paired well with a number of the appetizers on the menu.   Some of the bigger guns included the MacRostie Chardonnay and the Caymus Conundrum, to the big reds such as the Robert Craig "Affinity", which is a Cabernet Blend, Neyers 'Old Lakeville Road' Syrah and Cain Cuvee which is a Merlot blend (think Right Bank Bordeaux).
The restaurant does not charge a corkage fee if you choose to bring in that special bottle that you found out in wine country that day.  I am not surprised that this restaurant will continue to be a big hit with the tourists and locals alike.