When you think of wine growing regions, Japan isn't the first place you would think of.

While it's true that many, if not most countries, are growing grapes, but is the quality of the wine any good?

Recently I had the opportunity to put wines from Japan to the test.
First of all, there have been active wineries in Japan since 1875 and many have been passed through the family, in as many as four generations.

The climate in Japan tends to be warm and very humid, with high rainfall which can make grape growing very challenging.

After experimenting with North American grape varieties in the early days, the Japanese discovered some of their own varieties that do very well in their climate.
The Koshu grape variety is considered the star in the white category.

This grape truly reminds me of Riesling with its green apple, mineral and floral notes with high acidity on the finish.

I can see where this wine would be an excellent match with wasabi.

Two of my favourites were the 2006 Rubaiyat Koshu Sur Lie and the 2006 Grace Gris De Koshu.

Some of the other whites I tasted also reminded me of Chenin Blanc showing hints of honeysuckle, minerality and really high acid.

Overall, I was quite impressed with a few whites and felt that they were wines that were not only food-friendly, but are great just on their own.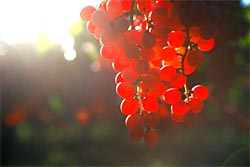 Koshu grapes
One red wine I tasted was the 2000 Chateau Sakaori made with a grape variety called Muscat Bailey A.

This is a hybrid variety which is a crossing of Bailey A and Muscat Hamburg that was created over 100 years ago.

This rustic wine really grew on me.

I found the finish to be very savory with a dried cranberry flavour.

This would be a great match with a savory Japanese dish such as Miso Glazed BBQ Duck.

I also tasted from Obuse Winery, their 2005 Merlot Ordinaire.

This wine is extremely popular in Japan and sells out almost immediately upon release.

If you have the chance to fly on Air Nippon throughout Europe make sure to look for this wine.
As the North American market has developed a taste for Sake over the last decade, I hope I'll see some of these interesting wines added to wine lists across the county.