For me, wood oven pizza rocks.  Ever since I had my first one in the early 1990s I've been hooked but had yet to find a restaurant with an equally fine wine list to match.  At Pizza Libretto, they have answered that call with stellar all Italian wine list and great wood oven pizza to match.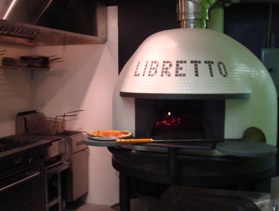 Start the evening right with a glass of the Villa Sandi Prosecco from the Veneto region in Italy.  Pair it with the Buttermilk Calamari, Romesco (red pepper almond sauce).  You'll be temped to keep drinking this easy drinking sparkling wine all night (and it will pair with pretty much everything on the menu), but when you've got a fantastic choice of white and red wines on this you'll want to move on.
For the whites, go for something fun and different such as the 2007 Gigi Rosso Roero Arneis from Piemonte.  The grape variety is Arneis and with it's great acidity will pair nicely with the Cookstown Arugula, Pear, Walnut, Piave and Balsamic Vinaigrette salad.   Other great match would be the 2007 Podere Canneta Vernaccia di San Gimignano from Tuscany as the flavours in this wine would complement the salad perfectly.
Moving on to the reds, a match made in heaven with the Duck Confit pizza is the 2006 Canaletto Pinot Nero from Lombardia.  Pinot Nero in Italian is Pinot Noir in French and it's a known fact that Burgundians love their duck with their fine Burgundian wine.   If you are a meat lover, then pair the House-Made Sausage Pizza with the 2005 Fanti "Tenuta San Filippo" Rosso di Montalcino from Tuscany or think outside the box and try the 2007 Angelo Nero d'Avola from the island of Sicily where you can expect ripe dark fruit characteristics and grippy tannis.  They also have fine selection of cured meats and cheeses that again would be a perfect match with any of the red wines listed.
This restaurant certainly knows food and wine and you certainly cannot go wrong with any of the wines listed here.  I love how they have made their wine list so customer friendly that you truly cannot pick a bad wine, plus, the prices are equally as friendly.
For me, good acidity in wine is the the perfect complement to any great pizza sauce, as the acidity in both the wine and tomato sauce balance each other out.  All of the wines on this list are all great matches and I look forward to many nights of great pizza and wine at Pizza Libretto in the future.